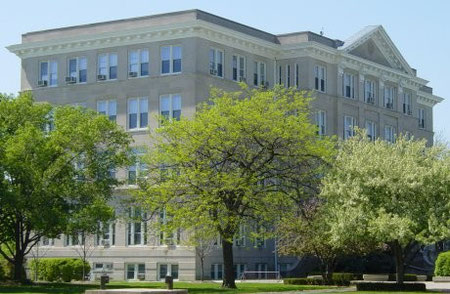 Named for St. Viator.  St. Viator's grew out of the original Bourbonnais village school, founded in 1865 by the Viatorians, to an academy for boys with the help of Father P. Beaudoin and Brothers Martel and Bernard, and in 1868 to a four-year liberal arts college with the aid of Father Thomas Roy. After nine years of work, Father Roy returned to his home in Canada, and was succeeded by Father M. J. Marsile, who oversaw the college for another 25 years. In 1906, several buildings were destroyed by fire, but courses continued in improvised quarters and new buildings were erected. Father Marsile afterward resigned, and Reverend J. P. O'Mahony C.S.V. was appointed president. Under financial pressure, it closed in 1939.
Roy Memorial Chapel was named for Father Thomas Roy, who served as president of the college. Marsile Alumni Hall was named in honour of Father M. J. Marsile, who was college president for 25 years.  After St. Viator's closed in 1939, the campus was purchased by Olivet Nazarene College from Olivet, Illinois.  Four buildings on the Olivet Nazarene campus are original from the days of St. Viator's 39-acre campus... Marsile Alumni Hall (now Burke Administration Building), gymnasium (now Birchard Gym), Roy Memorial Hall (now Chapman Residence Hall) and dining hall (now Miller Business Center).
St. Viator College had a preparatory department and high school in addition to the college and seminary and, for most of its years, had an enrollment of over 300 students.
During its existence, St. Viator was the host of the Catholic State Basketball Tournament for Illinois.  
Many of the college's graduates were priests, but even more entered the professions of law and medicine.  Notable alumni included Fulton J. Sheen, John Tracy Ellis, G. Raymond Sprague, and Bernard James Sheil.
From the 'Blue Book of the State of Illinois' (1909):
St. Viateur's College is located in the village of Bourbonnais, three miles north of Kankakee and fifty-four miles south of Chicago. Founded in 1865 by the priests and brothers of the congregation of St. Viateur as a village school it soon attracted the attention of students outside the district and it was necessary in 1868 to broaden it into a college. Father Thomas Roy, C. S. V., was made president and courses in business, classics, philosophy, science and theology were inaugurated. In 1874, the buildings were enlarged and at the same time the institution received its charter from the State Legislature and was thereby empowered to grant degrees in arts, sciences and in letters. The school is maintained entirely by tuition fees. In 1889 Roy Memorial Chapel was erected as a monument to the zeal of Father Roy, who died in 1879. A spacious gymnasium was added to the group of buildings in 1901.

February 21, 1906 a disastrous fire destroyed all the buildings of the school except the gymnasium. This building was soon transformed into class rooms and dormitories for the use of the college while the work of reconstruction went forward. Three buildings, Marsile Alumni hall, Roy hall and the science hall were completed and ready for occupancy in September, 1907. The new buildings are architectural models and of fire-proof construction throughout.

The great measure of success which has come to this college is due largely to the energy and zeal and sterling character of Very Reverend M. J. Marsile, who has been its president since 1879.

The number of students in attendance during the first school year was sixty. At the last term the enrollment was 275. The graduates of the college number nearly 1,000 and it was only through the loyalty and generosity of its alumni that the college was able to recover so quickly from its misfortune of 1906.
school information
St. Viator College
Location
Bourbonnais, IL
Active
1865–1939
Type
Private
Religious affiliation
Catholic
Nickname
Irish / Green Wave
Yearbook
Viatome
Newspaper
Viatorian
Colors
Green & White
1916 newspaper article announcing St. Viator has joined the IIAC / Little 19
St. Viator in IIAC.pdf
Adobe Acrobat Document
238.9 KB
historical football and basketball records